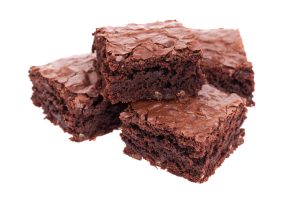 In The Kitchen with Dionne Z.
If you love brownies (who doesn't!) then this recipe from our own Dionne Z. is sure to please your palate. Dionne, one of our amazing dental assistants, likes to use coffee instead of water for this recipe. She says it gives it a special flavor that is perfect if you are a coffee lover. But if you're not a fan of coffee, use water in the recipe.
Enjoy!
INGREDIENTS
1 cup sugar
½ cup packed brown sugar
2/3  cup butter
¼ cup water or coffee
1¼ cups mocha chocolate chips
1½ cups semi-sweet chocolate chips (can use all semi-sweet)
4 large eggs
2 tsp. vanilla extract
1 ½ cups flour
½ tsp. baking soda
½ tsp. salt
DIRECTIONS
Preheat oven to 325 degrees.
Spray a 9×13 inch pan with Pam.
In saucepan combine butter, sugars, and water or coffee. Bring to a boil, stirring constantly.
Remove from heat and stir in 1 ¼ cups mocha or semi-sweet chocolate chips.
Stir until chips are melted. Set aside to cool slightly.
In large bowl whisk eggs until foamy – about 3 minutes – then add vanilla and stir.
Slowly whisk in chocolate mixture.
In separate bowl mix flour, baking soda and salt. Stir into chocolate mixture.
Fold in 1 ½ cups semi-sweet chocolate chips. Pour into baking dish.
Bake 35-45 minutes or until a toothpick inserted in middle comes out with coarse crumbs.
Do not overbake!
Cool completely before cutting.