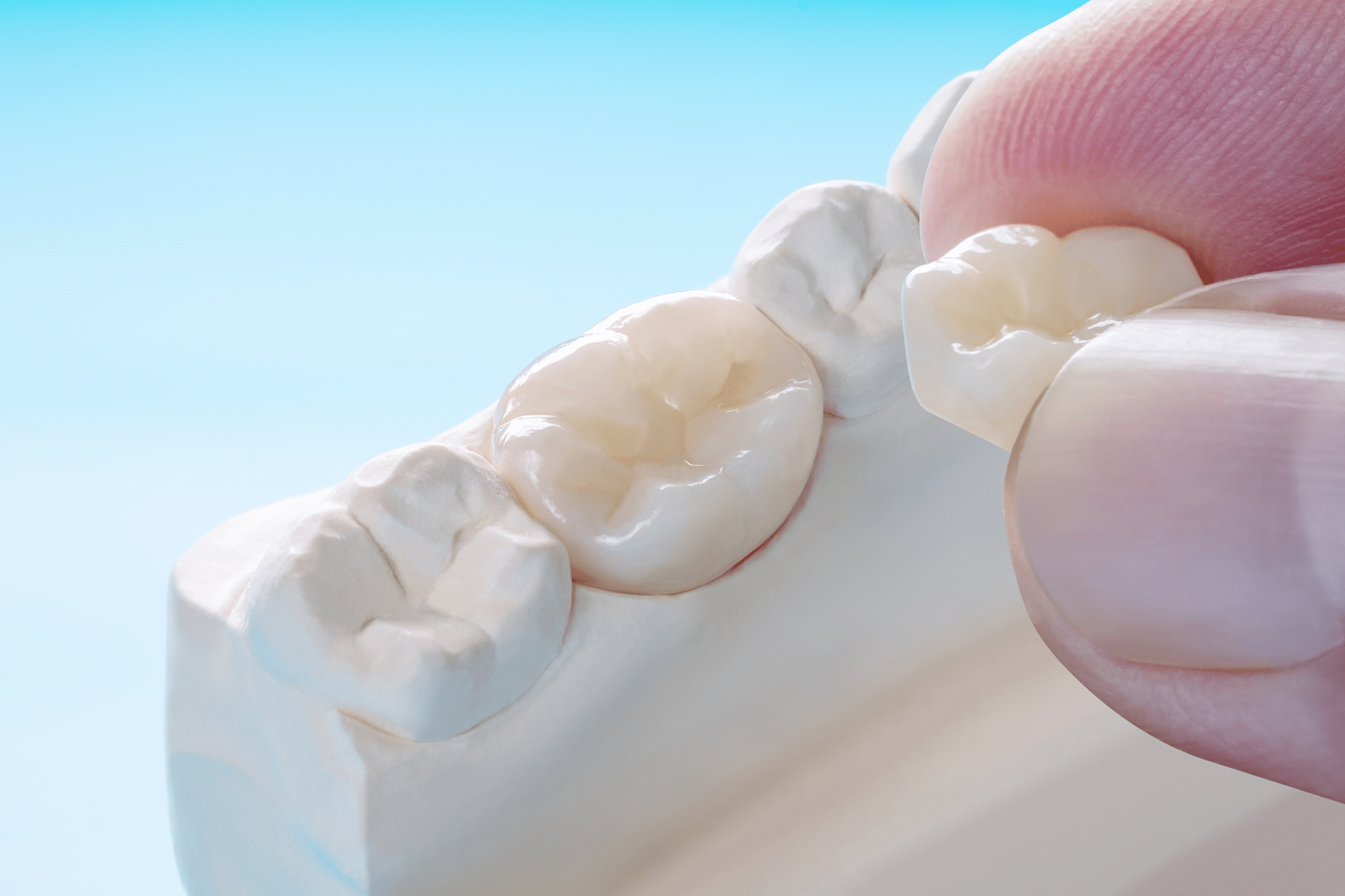 Are you looking for a dental crown? At Personal Care Dentistry, we understand the importance of your smile. We offer customized dental crowns that fit perfectly so your teeth look and feel their best. Our dental team will work with you to find the perfect solution for restoring your tooth shape and confidence! Dental crowns in Roseville are an effective way to restore broken or decayed teeth to their original shape and size while protecting them from further damage. With our advanced solutions in custom-crafted dentistry, you can trust us to give you a beautiful smile in no time! 
Contact us now and book an appointment today – get ready to show off those pearly whites again!
Crowns for a Beautiful and Functional Smile
Sometimes, Dr. Walter Hunt, Dr. Kyle Hunt, or Dr. Andrew Heinisch may recommend crowns. A crown or cap is a porcelain covering placed over the tooth surface, restoring strength and appearance. We recommend crowns when a filling is insufficient to give the tooth proper structure, fix fractures, or lend support for bridges. Crowns also improve the appearance of the tooth.
The Dental Crown Treatment
Crowns typically consist of two appointments. For placement, we will numb the area with anesthetic and use specialized instruments to remove any decay and shape the tooth for attaching the new crown. Then, we take impressions to create the custom crowns. We send the impressions to a dental laboratory.
We will place a temporary crown on the tooth to protect it until the lab creates the new crown. When the new one arrives, the patient will return to the office for placement and fitting. If the crown's fit, shape, and color are satisfactory, your dentist will proceed with permanently cementing it into place.
Dental Crown Post-Treatment Expectations
Recovering from a dental crown placement procedure is essential to ensure your new crown is comfortable and long-lasting. At Personal Care Dentistry, we understand that taking care of your oral health doesn't end when you leave our office. After the successful completion of the crown, it is not uncommon to feel some discomfort, mild pain when you chew, or sensitivity to temperature changes for a few days. With proper care and attention, you can minimize any discomfort you experience and get back to your daily routine as quickly as possible. Also, if your newly cemented crown feels too tall or your bite doesn't feel right, you should contact your dentist.
Our team will give you detailed instructions on how to take care of your new crown at home and answer any questions you may have about the recovery process. We're here to help you achieve optimal oral health and a beautiful smile, starting with successful crown placement.
How Long Do Dental Crowns Last?
Crowns are a great way to conceal damaged teeth and enhance oral function, but how long do they last? Please keep in mind that the longevity of your crown depends mainly on the materials in the crown, as well as your oral hygiene, diet, and the health of the supporting tooth and gums. That's why it's crucial to work with your dentist to determine the best course of action to ensure your dental crowns last as long as possible. While dental crowns can last up to 15 years or more with proper care, poor maintenance, tooth decay, and other factors can cause them to fail sooner. Maintaining all of your teeth with proper brushing and flossing is essential.
At Personal Care Dentistry, we understand that dental health is vital to your overall well-being. That's why we offer a wide range of services to meet your needs, from restorative and cosmetic dentistry to family dental care in Roseville, MN. Our experienced team provides personalized care to each patient, and we use the latest technology and techniques to ensure your comfort and satisfaction. 
Whether you need a routine cleaning or a more complex dental procedure such as a dental crown, we're here to help you achieve a healthy and beautiful smile. Trust us to provide the personalized care you deserve at Personal Care Dentistry. Call Personal Care Dentistry at (651) 615-0777 today.