Dental Crowns in Roseville, MN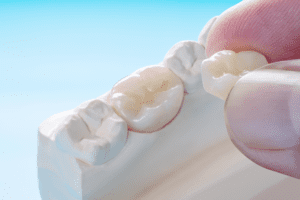 There are times when your dentist will recommend crowns. A crown or cap is basically porcelain covering that is placed over the tooth surface, restoring strength and appearance. Crowns are needed in instances such as when a filling is not enough to give tooth proper structure, to fix fractures, or lend support for bridges. Crowns improve the appearance and structure of the tooth.
Keep in mind that crowns typically consist of two appointments. Impressions are made in order to create the custom crowns. For placement, the tooth will be numbed in order to remove any existing decay and to shape what is left of the tooth for attaching the new crown. A temporary crown will be placed on the tooth to protect it while the new one is being made. It is important that great care be taken with the temporary to avoid loosening. When the new one arrives, the patient will return to the office for placement and fitting. Sensitivity may be experienced with the new crown, but should subside over time.
The Dental Crown Treatment
It normally takes two visits for your dentist to complete your crown. On your first visit your dentist will shape and prepare the tooth so the crown can properly fit over it.
Next, an impression of the tooth is taken and a temporary crown is inserted to protect the prepared tooth. This impression is then sent to a dental laboratory where a custom-fit permanent crown is made.
On your second visit, the permanent crown is placed. If the fit, shape and color of the crown are satisfactory your dentist will proceed with permanently cementing it into place.
Dental Crown Post Treatment Expectations
After the successful completion of the crown it is not uncommon to feel some discomfort, mild pain when you chew, or sensitivity to temperature changes for a few days. Also, if your newly cemented crown feels too tall or your bite doesn't feel right, you should contact your dentist.
Cleaning Your Dental Crown
Please keep in mind that the longevity of your crown depends in large part on the materials in the crown, as well as your oral hygiene, diet and the health of the supporting tooth and gums.  It is important to maintain all of your teeth with proper brushing and flossing.
For dental crowns in Roseville, MN, call Personal Care Dentistry at (651) 615-0777 today.