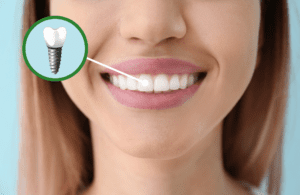 Dental implants have become one of the most popular solutions for replacing missing teeth. Implants are naturally aesthetic, durable, and extremely long-lasting. Here at Personal Care Dentistry in Roseville, Minnesota, we offer dental implants to all eligible patients with missing teeth. If you are interested in restoring your smile, give us a call today! Dental implants may be the perfect option for you. 
Dental Implants Procedure
Before the dentist will recommend a dental implant, we will perform a thorough exam of your teeth, upper and lower gum line, and your jaw bone to ensure that your mouth is healthy and strong enough to hold the implant. Once you have been cleared, the implant procedure can begin. 
The implant includes three different pieces of equipment: the post, the abutment, and the crown. To begin the process, a local anesthetic will be administered as the dental implant is a surgical process. The doctor will cut open the gum and down into the jaw bone, creating a space for the post to be placed. The post is a metal screw that, once secured, will act as the new root to your tooth. The tissue in your mouth will heal around the post, securing it in place. 
The abutment is the next piece that will be placed. It serves as the connecting piece between the post and the crown. Once the abutment has been placed, your gum line needs time to heal to create a stable foundation for the crown. A temporary crown will be given to you as you heal.
Once your mouth has healed, you are ready for the placement of the crown! Crowns can be made out of all kinds of materials, but the most common is porcelain. The crown is created to match your tooth anatomy. This ensures that the crown is unrecognizable. Once the crown is secured, your dental implant is complete. You will be able to eat and drink that same day. It is normal to experience some sensitivity in your mouth following the procedure, but this should not last more than two weeks. 
Benefits of Dental Implants
Dental implants restore your ability to eat and speak properly. They also improve your facial structure and your muscle strength. 

If taken care of properly, a dental implant will last you decades. The replacement is a permanent solution. 

The implant is completely seamless and natural. You will not be able to see that the tooth is artificial.
Contact our Dental Professionals
Here at Personal Care Dentistry in Roseville, Minnesota, we offer dental implants to our patients as a restorative dental option. If you are interested in a dental implant or have any questions about them, please do not hesitate to contact us. We are so excited to serve you and help you achieve a beautiful smile!