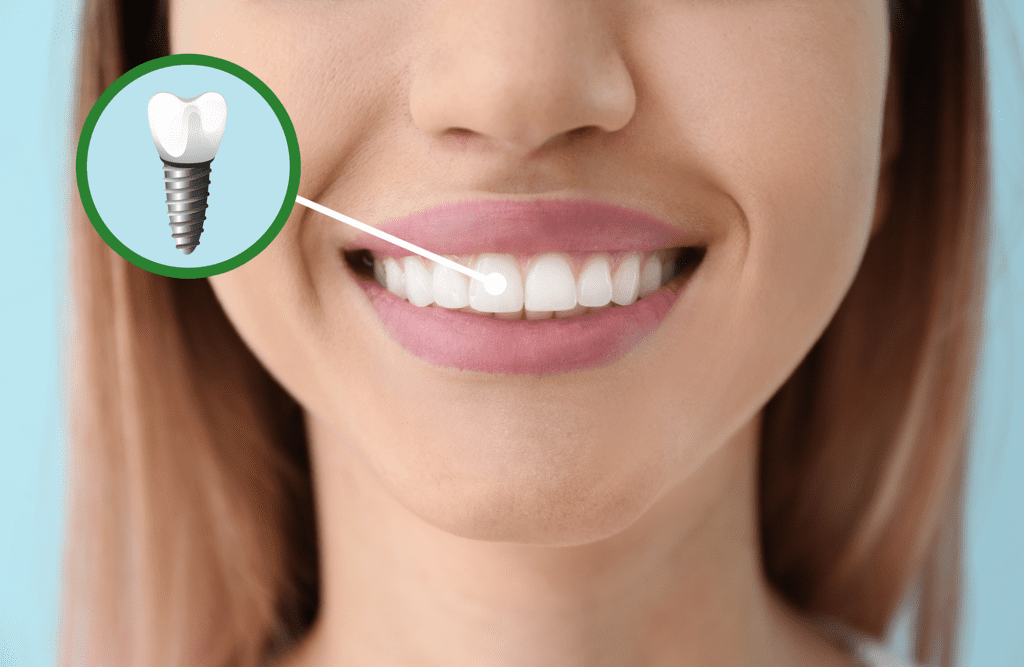 Not happy with your dental situation? We know how important it is to feel confident in your smile. We offer various restorative dentistry options to help you get healthy, functional teeth. Whether you're looking for dental implants or another procedure in Roseville, we can help.
Please schedule a consultation today to learn more about our restorative dentistry options!
High-Quality Dental Implants in Roseville, MN
Dental implants have become one of the most popular solutions for replacing missing teeth. Implants are naturally aesthetic, durable, and extremely long-lasting. At Personal Care Dentistry in Roseville, Minnesota, we offer dental implants to all eligible patients with missing teeth. If you are interested in restoring your smile, call us today! Dental implants may be the perfect option for you. 
A dental implant is a small titanium screw that is placed into the jawbone to act as a replacement for a missing tooth root. We then use the screw to support a dental prosthetic, such as a crown, bridge, or denture. Dental implants are considered the gold standard for tooth replacement, as they are durable and long-lasting. In addition, dental implants can help to preserve the health of the jawbone and surrounding teeth.
Dental Implants Procedure
Before our team recommends a dental implant, we will thoroughly examine your teeth, upper and lower gum lines, and jaw bones to ensure that your mouth is healthy and strong enough to hold the implant.
We will administer a local anesthetic to begin the process. The typical implant includes three different components: the post, the abutment, and the crown. The post is a metal screw that, once secured, will act as the new root of your tooth. The tissue in your mouth will heal around the post, securing it in place. 
The abutment is the next piece that we will place. It serves as the connecting piece between the post and the crown. Once the abutment has been placed, your gum line needs time to heal to create a stable foundation for the crown. We will give a temporary crown to you as you heal.
Once your mouth has healed, you are ready to place the crown! Crowns can be made from all kinds of materials, but the most common is porcelain. The crown is created to match your tooth anatomy. This ensures that the crown is unrecognizable. Once the crown is secured, your dental implant is complete. You will be able to eat and drink that same day. It is normal to experience some sensitivity in your mouth following the procedure, but this should not last more than a few weeks. 
Benefits of Dental Implants
Dental implants restore your ability to eat and speak properly. They also improve your facial structure and your muscle strength. And if taken care of properly, a dental implant can last decades. The replacement is a permanent solution. 
The implant is completely seamless and natural. You cannot tell that the tooth is artificial unless you look very closely. And it will feel and function just like your natural tooth. You can floss around it and brush as usual. 
Roseville Dental Implants
Personal Care Dentistry offers dental implants in Roseville, Minnesota, to our patients as a restorative dental option.
We want you to love your smile and do everything we can to help make that happen. With our experienced team and state-of-the art equipment, you can be sure you're in good hands. We'll work with you to find the best solution for your needs and help you get the beautiful, healthy, functional teeth you desire.
If you are interested in a dental implant or have questions about it, please do not hesitate to schedule a consultation with Dr. Walter Hunt or Dr. Kyle Hunt.