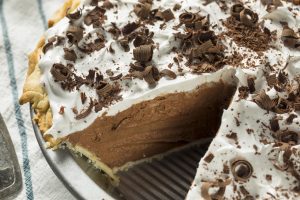 If you love chocolate, you probably adore French Silk Pie. But for most chocolate lovers, making a French Silk Pie is just a bit too complicated for them. Until you try Dionne's French Silk Pie recipe. It's easy to make and oh-so-good!
Dionne Z. is our fabulous dental assistant who loves to cook.
Enjoy your chocolate rush!
INGREDIENTS
1 pie crust
3 oz. unsweetened baker's chocolate
1 cup butter softened – DO NOT USE margarine
1 cup sugar – Superfine baker's sugar
½ tsp. vanilla
4 pasteurized eggs
TOPPING
½ cup sweetened whipped cream
Chocolate curls
DIRECTIONS
Prepare pie crust according to package directions – use a 9-inch pie pan.
Melt chocolate in small saucepan over low heat. Set aside to cool.
Beat butter until fluffy.
Add sugar, beating until light and fluffy.
Blend in cooled chocolate and vanilla.
Add eggs, one at a time, beating on high speed for two minutes after each egg.
Pour into cooled shell.
Refrigerate two hours.
Top with ½ cup of sweetened whipped cream and chocolate curls.