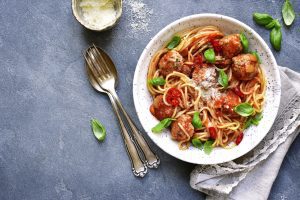 In The Kitchen with Dionne Z.
For most of us, November is turkey month. Did you know that 88% of American homes serve some form of turkey during the Thanksgiving holiday? And of course, if you serve a whole turkey at Thanksgiving the odds are good that you will have leftovers.
We have a great way to use some of that leftover turkey in this imaginative turkey meatball recipe, courtesy of our wonderful dental assistant, Dionne. The recipe was introduced to her by her uncle David, who found it in an Epicurious cookbook.
Everyone loves spaghetti and meatballs, but this recipe features pancetta blended directly into the meatball mixture and then baking rather than frying the meatballs. The salty pancetta and the sweet sun-dried tomatoes make these meatballs that people will rave about for a long time.
Linguine with Turkey Meatballs and Quick Sauce
SERVES
6 to 8 servings
INGREDIENTS
3 tablespoons olive oil
2 ounces pancetta, finely diced
1/2 yellow onion, finely diced
1 pound ground turkey, preferably dark meat
1/2 cup freshly grated Romano cheese
1/4 cup chopped fresh flat-leaf parsley
1/4 cup plain bread crumbs
1/4 cup chopped sun-dried tomatoes
2 eggs, lightly beaten
3/4 teaspoon salt
3/4 teaspoon freshly ground black pepper
1 pound linguine
1/4 cup extra-virgin olive oil
1 (28-ounce) can whole San Marzano tomatoes, drained and cut into pieces with kitchen scissors
2 whole garlic cloves, peeled
1/4 cup chopped fresh flat-leaf parsley
1/2 teaspoon salt
1/2 teaspoon freshly ground black pepper
1/3 cup finely chopped fresh basil
DIRECTIONS
Step 1
To make the meatballs, preheat the oven to 450°F.
Step 2
Heat the olive oil in a medium, heavy skillet over medium heat. Add the pancetta and cook for 2 minutes. Add the onion and continue to cook until the pancetta is crisp and the onion is tender, about 4 minutes more. Remove from the heat and let cool.
Step 3
In a large bowl, combine the pancetta-and-onion mixture with the remaining meatball ingredients and stir to combine. Form the turkey mixture into balls about 2 inches in diameter, using about 2 tablespoons for each, and place on a foil-lined and greased baking sheet. Bake for 20 minutes.
Step 4
Bring a large pot of salted water to a boil over high heat. Add the pasta and cook until tender but still firm to the bite, stirring occasionally, 8 to 10 minutes. Drain, reserving 1 cup of the pasta water.
Step 5
Meanwhile, in a medium saucepan, warm the 1/4 cup of olive oil over medium heat. Add the tomatoes, garlic cloves, parsley, salt, and pepper and cook for 10 minutes. Discard the garlic cloves. Add the cooked meatballs and the cooked pasta and toss to coat. Add the reserved pasta water, about 1/4 cup at a time, if the pasta needs moistening. Arrange on a serving platter and top with the basil.
SOURCE: Epicurious