Temporomandibular disorder (TMD or TMJ)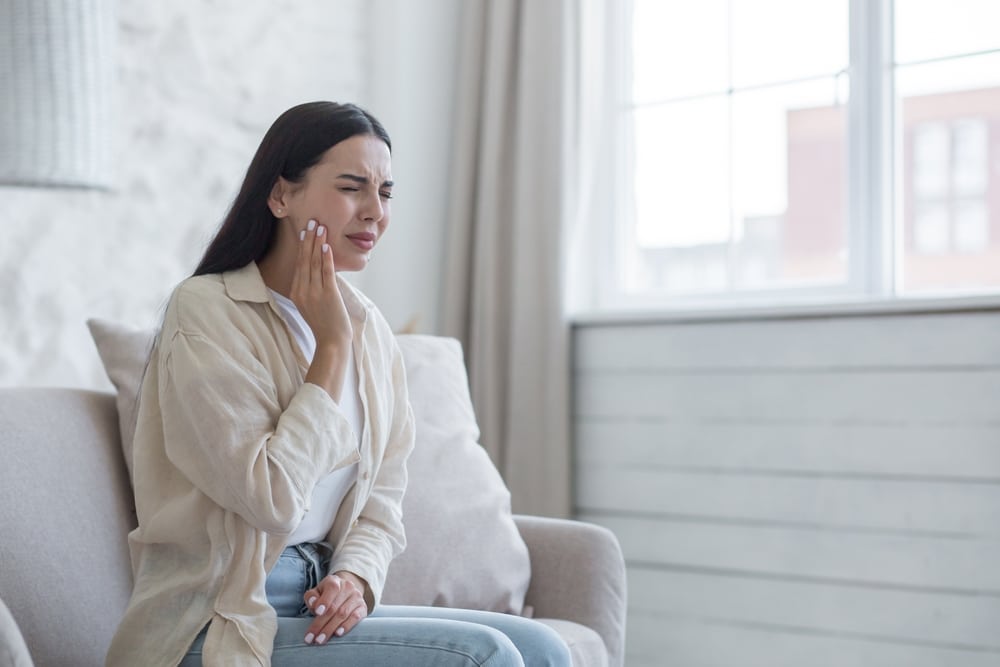 Temporomandibular disorder, otherwise known as TMD or TMJ, is a condition which affects the movement of the jaw. It can be caused by teeth grinding (also known as bruxism), having an uneven bite, or a head injury which has damaged the jaw. Temporomandibular joints are among the most complex joints in your body, and if they are damaged it can cause considerable pain.
What are the signs of TMD?
There are many different signs that you may be suffering from TMD. They include, but are not limited to-
Pain in your jaw or temple
Problems opening your jaw wide
A headache that is focused around your temples
Noises when you move your jaw such as clicking, popping, or grinding
Dizziness
Problems with your jaw locking when you open you mouth wide
What can you do to ease TMD yourself?
One of the best things you can do to relieve TMD is relax as the most common issue is jaw clenching due to stress. This might require some gentle massage on your jaw or placing a temperature pack on your face to help relieve the tension. It is also a good idea to keep your mouth as inactive as possible. This means no chewing hard objects such as pens or your fingernails, and eating soft foods such as pasta or soup until the pain eases. If you are able to take mild painkillers, over the counter anti-inflammatories, or muscle relaxers, this may be an option for you.
When to see your dentist
TMD can generally be managed at home but if it begins to affect your daily life, you might want to consider an appointment with our team. TMD can be very painful but can be treated. Using X-rays, our dentists at Personal Care Dentistry can examine your jaw to see what is causing your TMD. An examination of your jaw will be carried out, feeling and listening to the movement. But most importantly, we will listen to you and how the pain affects your day to day life.
One of the popular options is using a mouthguard. A mouthguard can be made to prevent teeth from grinding and relieve the pressure. Known as splits or mouth plates, these mouthguards are made of hard wearing plastic and shaped to your own teeth. These should not be confused with invisible braces as they will not move or change the shape of your teeth in your mouth. They are designed to help relieve pressure when you are grinding your teeth and prevent any further damage. Depending on the severity of your teeth grinding, a guard can last around a year before it needs to be replaced.
In some extreme cases, we may refer you for surgery but this is something that would need to be discussed at length with our team in Roseville, Minnesota. This would only be considered a last resort after all other methods have been exhausted.
If you have any questions about how we can help you manage your temporomandibular discomfort, get in touch with our team at Personal Care Dentistry, Roseville, Minnesota.