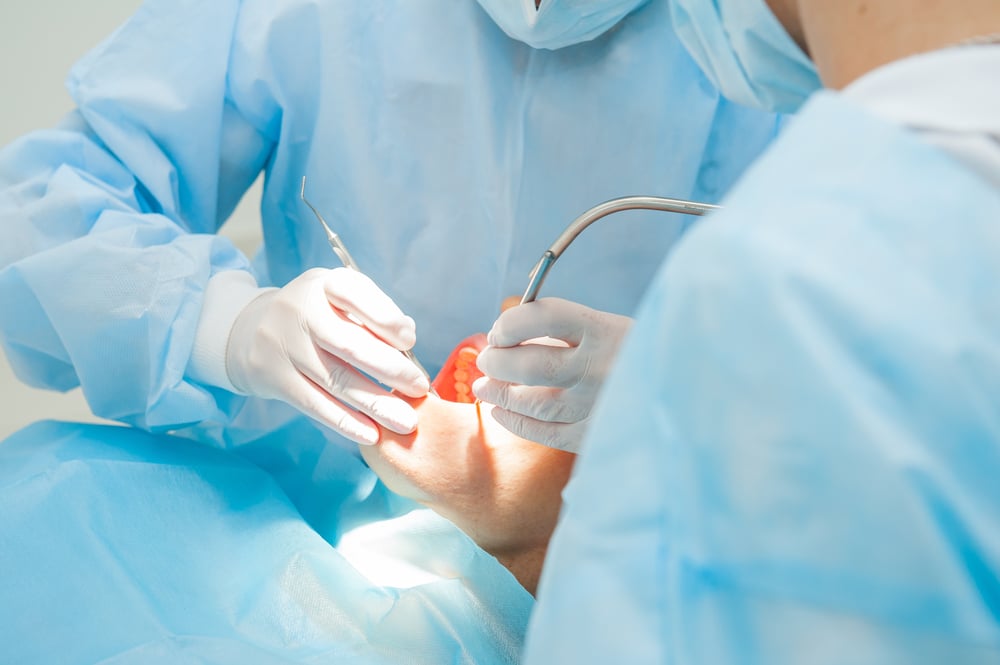 At Personal Care Dentistry, we offer gentle and comfortable dental care for everyone in the family. We understand that going to the dentist can be a daunting experience, but we're here to make it as easy and stress-free as possible. We offer all the dental services your family needs in Roseville, including tooth extractions.
Give us a call today to schedule an appointment!
Tooth Extractions in Roseville, MN
If you have been experiencing tooth pain or discomfort, you need to speak to a trusted dentist. During the examination, Dr. Walter Hunt, Dr. Kyle Hunt, or Dr. Andrew Heinisch will check whether they can repair the tooth through restorative dentistry, such as fillings, crowns, or root canal therapy.
When this is impossible, you might consider undergoing a tooth extraction in Roseville, Minnesota. Before the tooth removal procedure, our team will explain every step and what to expect before and after treatment.
When Do You Need a Tooth Extraction?
Tooth extraction is a valuable option to keep in mind, and it can help you restore the health of your mouth if you cannot repair a broken or damaged tooth. Some of the conditions that might lead to tooth extraction include:
Gum or periodontal disease

Damaged or broken teeth that we cannot repair

Abscesses on your gums

Severe tooth decay

Crowded teeth (happens when there is insufficient space in your jaw.)
Tooth removal can also be an effective solution for impacted wisdom teeth, affecting many adults and significantly influencing oral health.
Preparing For Tooth Extraction
We can perform the tooth extraction in our state-of-the-art dental facility in Roseville, MN. Commonly, you can go home on the same day, though you should ensure that someone can accompany you home after the procedure.
Before the procedure, you will have the chance to speak to your dentist and ask all the questions you might have. You will need to report your medical history, medical conditions, allergies, or surgeries you might have had.
The Extraction Process
When you are ready and comfortable, we will numb the area around the tooth with local anesthesia. This will ensure that you feel no pain during the extraction. We will carefully loosen and remove the tooth from the socket using specialized dental instruments. Once the tooth is removed, the dentist will put a stitch on the socket to facilitate its healing process. Finally, we will clean the area and provide you with aftercare instructions.
Aftercare and Recovery After a Tooth Removal
Aftercare and recovery are essential following a tooth extraction. The goal is to help the area where the tooth was removed heal quickly and without complications. Here are a few aftercare tips: 
Do not drink alcohol for at least 24 hours after the extraction. 

Do not smoke for at least 72 hours after the extraction. 

Gently rinse your mouth with warm salt water starting the day after the extraction. 

Limit vigorous exercise for at least 24 hours after the extraction. 

Take pain medication as prescribed by your dentist. 

Apply an ice pack to your face for 20 minutes on and then 20 minutes off to help with pain and swelling. 

Eat soft foods for a few days until you feel comfortable enough to eat solid foods again. 
Following these aftercare tips will help you recover quickly and without complications following a tooth extraction.
Roseville Tooth Extractions
If you're experiencing any of the following issues, it may be time to visit our dental office for tooth extraction: severe decay, infection, extensive damage due to trauma, or impacted wisdom teeth. We understand that this can be a scary prospect, but our team is here to help make the process as smooth and comfortable as possible. 
We want you to be as comfortable as possible during your visit, so please let us know if you have any questions or concerns. Call us today to schedule a consultation – we would be happy to answer any questions you have! We look forward to meeting you!