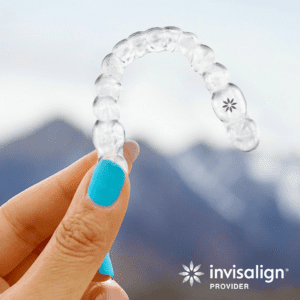 Metal braces are a thing of the past. Braces are bulky, time consuming, and uncomfortable. They can also make it difficult to practice good oral hygiene. Invisalign is the newest, most convenient way to achieve that straight, Hollywood smile that everyone is looking for. At Personal Care Dentistry in Roseville, Minnesota, we offer Invisalign to all patients looking to align their smile. 
What is Invisalign?
Invisalign is a new method of braces that works to align your teeth with clear plastic aligners. The clear aligners are custom made to your teeth anatomy and gradually push your teeth into the desired position. Each patient receives a personalized treatment plan to help them feel confident with their smile. Invisalign is a quick, convenient, and discreet way to straighten your smile in as little as 10  months. 
How does Invisalign Work?
If you are interested in starting this process, the dentist will first have you in for a consultation. During the consultation, your oral history will be checked to ensure that your teeth are healthy. The doctor will also talk to you about your desired results. Then, the dentist will take impressions and digital x-rays of your teeth. Using this information, clear aligners will be made to fit your custom treatment needs.
Once the aligners are created, you will return to the dentist to officially begin your treatment. The aligners should be worn for 22 hours of the day to ensure the treatment is effective. You should only remove the aligners for eating and brushing your teeth. Every 3-4 weeks, you will return to the dentist to receive a new set of aligners that will continue to align your teeth. The average treatment plan lasts 10-12 months. 
Benefits of Clear Aligners
Invisalign is removable. This makes it easy to practice good oral hygiene. It also means that no foods are off limits! You will not have to limit your diet during your Invisalign treatment.

Invisalign not only straightens your teeth, but works to correct any overbite, crossbite, or underbite. The aligners can also be used individually, either on the top or bottom of your smile.

You can receive Invisalign treatment here in our office. You don't have to go looking for a new orthodontist to receive treatment. 

With metal braces, you have to plan for wire readjustment, which can take hours. But with Invisalign, appointment check ups are usually less than 20 minutes. 
Here at Personal Care Dentistry, we want each of our patients to receive individualized care. That is why we offer Invisalign, a quick and convenient way to straighten your teeth. If you are interested, give us a call or come into our Roseville, Minnesota office today.